---
Vehicle batteries provide energy to start the engine, and supply power to accessories when the engine isn't running. But both the cold of winter and the summer heat can place a heavy demand on auto batteries.

When it's time for service, we will inspect your car battery and inform you if a replacement is or will be needed. If needed, you can trust our Certified Service technicians to help you find the best car battery for you and your vehicle.

---
Battery Offers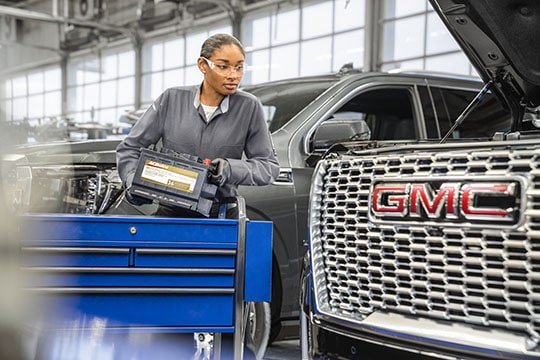 Complimentary Battery Test
Many of today's vehicles include features and technology that place a major strain on your battery. If you have a concern with the condition of your battery, let Certified Service test it, no charge!
Check out our other offers

Battery Facts
---
There are a number of things that can leave your battery powerless when the cold weather hits.


In-vehicle electronics (phone chargers, digital screens) constantly drain power, even while parked
Leaving accessories like radios and climate control on when you turn your ignition off can place added strain on a battery at start-up
Leaving your vehicle parked for an extended period of time can lead to the battery draining and discharging
---
There are numerous reasons why a vehicle won't start. If it's related to the battery the starter will generally not crank the engine. This is the telltale "click, click, click" sound when you turn the key. This could be an alternator not charging the battery properly, a loose battery or starter cable, or the need for a car battery replacement.
---
---
In most instances, normal driving will recharge the car or truck battery, unless there is an issue with the vehicle. If your vehicle does not start after driving it, it's recommended that you take your vehicle to your nearest Certified Service dealer to have a diagnostic test performed.
---